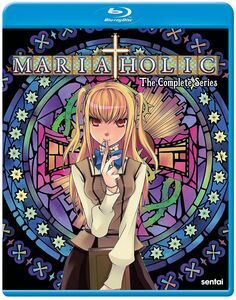 Maria-holic!
(Subtitled, Anamorphic)
Release

17/08/2021

Film and TV Genre

Anime-Japanese

Media Format

Blu-ray

Please be advised. Unless otherwise stated, all BLU-RAY are REGION A and all DVD are REGION 1 encoding. Before purchasing, please ensure that your equipment can playback these regions. For more information on region encoding, please click the link below:
Product Notes
Kanako likes girls and guys literally give her the hives, so she thought that attending an all-girls school would be the perfect place to meet the perfect girl. Then her hot new roommate turns out to be a guy in drag. Yikes. And when the most popular girl in school catches Kanako's eye, our poor heroine has to compete with all of the school's OTHER similarly obsessed girls... which seems to be most of them! To further complicate things are her roommate's rude maid, their cat-eared dorm leader, her roommate's identical twin sister, and WAY too many other attractive girls, and the question is whether Kanako will die from frustration first, or her almost constant nosebleeds! Still, she may be the girl voted least likely to succeed, but Kanako's not ready to give up on love just yet in the ultimate collection of MARA HOLIC!
Description
| | |
| --- | --- |
| Title: | Maria-holic! |
| Genre: | Anime-Japanese |
| Studio: | Section 23 |
| Number of Discs: | 4 |
| Attributes: | Subtitled, Anamorphic |
| Release Date: | 17/08/2021 |
| Media Format: | Blu-ray |
| UPC: | 816726026046 |
| Original Language: | ENG, JAP |
| Subtitles: | ENG |
| Run Time: | 600 minutes |